Trust Only The Best. Trust Brute, Inc. 
Quick Response Time

Our quick response time allows us to come in and get to work right away, so we can get the job done around your schedule.
Lower Cost Alternative

Brute, Inc. is the lower overhead, low-cost alternative to keeping your facility clean, 24/7, 365.
Individual Estimates

Let us help you stay within your budget, as all our prices are quoted on an individual/custom basis.
Personalized Products & Services

We offer personalized and custom services, supplies, and products, so we can give better give you EXACTLY what you want.
Across the country, most adults are spending more hours at work than at home. Whether you work in a commercial office, bank, restaurant, or retail store, most of us spend more time with our coworkers than our loved ones. Not surprisingly, as a result of repeatedly sharing space at work, the workplace quickly becomes a breeding ground for germs.
The proximity of employees, combined with the hours spent in the office, quickly accelerates the spread of germs in Louisville commercial buildings. From the common cold to a stomach bug, a dirty office can wreak havoc on your productivity and company morale.
According to the Gallup-Healthways Well-being Index, in 2013, absences due to poor health cost professional businesses in the U.S. $24.2 billion in lost productivity.
Investing in commercial cleaning services keeps employees safe, happy, and healthy. Caring for your office space shows your employees, and clients, that your company takes care of the details, with everyone's best interest in mind.
Health and Safety in the Office
Commercial cleaning services do more than empty the trash and vacuum the floor. They provide a quality workspace, improve the health of your employees, and can actually increase your revenue year after year.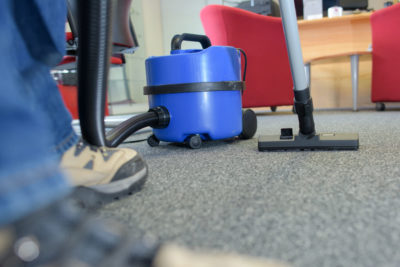 Germs are spread quickly throughout the workplace, through doorknobs, telephones, restrooms, and break room facilities. While the office might not look dirty, it can still spread disease quickly. For employees who are sensitive to allergens, regular cleaning can improve their health significantly. Commercial grade vacuums can actually increase the air quality, while reducing odor and dust in the workplace.
All of our commercial cleaning services are in complete compliance with government standards for commercial businesses. Depending on your industry, you may be subject to regulated standards of the Occupational Safety and Health Administration (OSHA), the Environmental Protection Agency (EPA), or the Centers for Disease Control and Prevention (CDC).
No matter the industry, Brute, Inc. ensures your business stays in tip-top shape.
Benefits of Professional Janitorial Services
When employees are responsible for additional cleaning tasks, it not only takes them away from the job that you are paying them to do, but the cleaning work done will be substandard, at best. Professional commercial cleaners can get the job done faster, easier, and often cheaper than a regular paid employee.
No one wants to walk into work and smell yesterday's office meeting pizza in the conference room, see the overflowing trash in the restroom or try not to notice the giant stain on the lobby floor that's been there since last week.
Instead, imagine walking into the office every morning and the air is sweet, the restroom is fresh, the floor is shining, and everything is in its place. A professional cleaning service not only provides a positive and professional appearance, but can actually impact the health and safety of your office.
Fewer Sick Days: When the flu spreads throughout the office, many of your most valuable players are forced to take the bench. Professional cleaning reduces the spread of germs, mold, and allergens, resulting in fewer sick days from your employees.
Increased Productivity: Your employees are more likely to take pride in their work when they are given cleaner air to breathe, a fresh desk to work at, and an environment of professionalism.
Cost Savings: The cost of commercial cleaning quickly pays for itself with increased productivity and fewer sick days. However, it can also protect your business investment over time. Basic office housekeeping neglects the hard-to-reach areas. Over time, this leads to a buildup of dust, stains, equipment damage, and furniture wear and tear. A high-quality commercial cleaning service avoids future repairs and replacements by taking care of the furnishing and equipment you already have.
Reduced Conflicts: Asking employees to complete the mundane tasks of taking the trash out, cleaning floors, vacuuming the carpet, or scrubbing the sink in the break room, on top of their regular duties, breeds resentment very quickly.  Meanwhile, an unclean work environment and constant nagging about who vacuumed last will only lower employee morale and can cause unneeded problems and conflict in the workplace.
Floor Care in Commercial Buildings
Our commercial cleaning services include specialty services for all types of commercial flooring. Each type of flooring requires specialized care to keep it looking new.
We care for all types of flooring, including vinyl, tile, VCT, hardwood, concrete, linoleum, rubber, and full carpet flooring as part of our commercial cleaning services for Louisville businesses. Using the latest eco-friendly strippers and high solids wax finish, your floors will look the way they were originally intended to look.
Tile: Quarry tile is the industry standard for commercial kitchens because it withstands spills, foot traffic, and grease easily. It is easy to clean but should be completely disinfected on a regular basis.
Stripping/Waxing/Vinyl Composition Tile (VCT): VCT flooring is a popular option because it's budget-friendly, but they do require professional maintenance. VCT should be stripped, waxed, and sealed on a regular basis to protect the surface and keep it looking new.
Hardwood: Hardwood floors look stunning when they are maintained correctly. They require complete cleaning, stripping, and waxing to keep looking their best.
Concrete: Concrete flooring is a business favorite because they resist staining, but they should be polished on a regular basis to keep them looking fresh and bright.
Rubber: Rubber flooring is a great option for hospitals and gyms because it's both slip resistant and sound absorbent. Sometimes it can be difficult to clean because it's naturally porous, but commercial cleaning services can make sure these are maintained correctly.
Carpet Flooring: Commercial carpet is ideal for businesses that need to keep a quiet atmosphere, but it's also a breeding ground for dust mites, allergens, stains, and germs. Regular professional cleaning is critical to any commercial carpet.
All of our commercial floor cleaning services can be completed around your normal business hours to avoid being in the way of your customers during regular business hours.
Working with a Professional Commercial Cleaning Service
Let your employees focus on their work, and let us focus on the mess. Brute, Inc. can take care of your commercial cleaning needs in Louisville and surrounding areas. We give custom quotes for each cleaning job, making it cheaper and easier than other options because we are able to keep our overhead costs low and pass those savings on to you. Call Brute, Inc. today for more information about our commercial cleaning services!
Is It Time To Clean Up Your Act?
Trust only the best. Trust Brute, Inc. to clean up every mess. Every time.