Trust Only The Best. Trust Brute, Inc. 
Quick Response Time

Our quick response time allows us to come in and get to work right away, so we can get the job done around your schedule.
Lower Cost Alternative

Brute, Inc. is the lower overhead, low-cost alternative to keeping your facility clean, 24/7, 365.
Individual Estimates

Let us help you stay within your budget, as all our prices are quoted on an individual/custom basis.
Personalized Products & Services

We offer personalized and custom services, supplies, and products, so we can give better give you EXACTLY what you want.
Commercial floor cleaning and maintenance makes your business look tidy, clean, and professional. Using the latest eco-friendly strippers and high solids wax finish, your floors will be complimented instead of looking tired and worn.
Brute Inc. services many of restaurants, venues, schools, and hospitals in Louisville to keep our city at its best. Using our innovative techniques, reliable equipment, and only the best products, we can have your floors looking the way they were originally intended to look.
Flooring In Commercial Business Facilities
The type of commercial flooring found in a business facility depends entirely on how the space will be used. It also depends on your outside environment, budget, timeline, and design aesthetics. Each type of flooring requires specific floor care to keep it looking brand new.
Vinyl: Vinyl used to be considered a "cheap" flooring option, but recent advancements have made vinyl a major player in the flooring game. Today, vinyl flooring can be made to look like hardwood, tile, or stone. It does show more wear and tear than other options, but it's also more budget friendly. It can be a great option for restaurants, hotels, or medical offices.
Tile: The industry standard for commercial tile is a quarry tile that withstands spills, foot traffic, and grease. Quarry tile is cheaper than porcelain while providing similar benefits. It's a popular choice for commercial kitchens because it can stand up to heavy-duty use.
Vinyl Composition Tile (VCT): These composite tiles are the least expensive flooring option. Basically, it is a solid sheet of vinyl cut into tile shapes and then installed. Because of this, it requires several layers of polish to protect the surface, which requires ongoing stripping, waxing, and polishing. While it's cheaper initially, maintenance costs add up over time.
Hardwood: Hardwood floors have been around for centuries because they are durable and resilient (not to mention, beautiful). Hardwood floors can take a lot of abuse, and still look stunning although it does require more maintenance than other options. It's best for smaller retail spaces, museums, and stages.
Concrete: Concrete flooring is a business favorite because they resist staining, are naturally non-slip, and are easy to clean and maintain. Concrete flooring complements any space by acting as a blank canvas. When properly cared floor, concrete floors reflect light and give off a highly polished look. These types of floors are ideal for restaurants, retail spaces, and entertainment venues.
Linoleum: Linoleum is very similar to vinyl in terms of cost, application, and aesthetics. However, linoleum is often seen as an "old-school" flooring product because of the onset of new flooring options that offer more design options with less maintenance. Generally, linoleum is used only sparingly in education and healthcare applications.
Rubber: Rubber flooring is a great option for hospitals and gyms because it's both slip resistant and sound absorbent. It stands up to heavy traffic and the slight cushion supports employees who are on their feet all day.
Carpet Flooring: Commercial carpet is ideal for businesses that need to keep a quiet atmosphere. It gives a warming presence and is perfect for lobbies, offices, and hotels. While it does require the most maintenance, and isn't ideal for all situations, it can be an extremely durable material when installed and cared for correctly.
Industries Who Benefit from Professional Floor Cleaning
The truth is, almost any industry that produces a product, provides a service, or operates within a facility will have the need for professional floor cleaning at some point. For some Louisville companies, daily or weekly floor cleaning is necessary for keeping a safe work environment. For others, a matter of a once a month polish will do the trick.
Retail Stores: A dirty work environment sends a message to your customers that your products aren't worth cleaning up for. Sometimes those small areas, like the corners and dressing rooms, can be noticed by customers and either send them away or keep them coming back for a refreshing shopping experience.
Restaurants: The dinner rush doesn't always lend itself to a particularly clean working environment. Grease buildup, floor debris, and residual food must be cleaned thoroughly from floors and mats each night to ensure a safe and healthy work area.
Medical Offices: The cleanliness of any type of medical office is not something that should be taken lightly. Even for non-invasive offices, hygiene and safety are of utmost importance and should be handled by a qualified professional on a regular basis.
Hotels: Hotels can be breeding grounds for dust mites, germs, bed bugs, and anything else hundreds of guests can bring in and out of those rooms. Carpet is commonly used in hotels and can be difficult to keep clean without professional commercial floor cleaning services.
Entertainment Venues: Anywhere you have a crowd of people having a great time, you're likely to have a mess to clean up afterward. After all, when you're there to have a good time, you don't want to have to worry about staining the carpet or spilling your nachos.
Sports Facilities and Gyms: Where you work hard and play hard, you leave it all on the floor, literally. Sports facilities, rec centers, gyms, and locker rooms can collect odors, germs, and even disease if not adequately cleaned every business day.
Commercial Floor Maintenance
Basic commercial floor cleaning and maintenance is completed in three steps. These three steps can apply to almost any type of flooring, although the application, methods, and products used may differ slightly.
Stripping: This is removing the top coat of wax, dirt, grime, or buildup from the floor. For some floors, like vinyl or VCT tile, this is completely removing the topcoat of wax. For others, it's simply removing the top layer of dirt that has accumulated on the floor over time.
Sealant: After the floor is completely bare, they are sealed with a high-quality sealer. The product differs based on the type of flooring. A hardwood floor gets a very different sealant than tile or vinyl, but all floors need protection to keep them looking new.
Shine: Shining floors usually involves waxing or buffing. This is what gives your floors that brand-new shine and rich glow.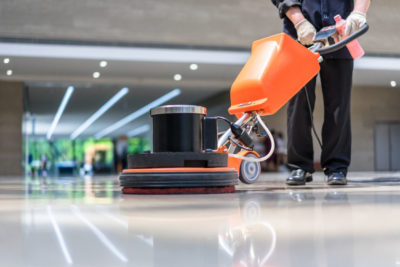 Total Floor Care with Brute Inc.
As a professional floor cleaning company, at Brute Inc., we understand that you can't close business just because the floors are dirty. We support our local Louisville customers by working around your normal business hours to avoid being in the way of your customers so you can keep doing what you do best.
Because we are both a custodial contractor and a supplier, we stand by the products we use as the best in the industry. Commercial floor cleaning is one of our specialties. We know what works and what doesn't so we can guarantee your satisfaction with every job. Call us today to get your floors looking good as new!
Is It Time To Clean Up Your Act?
Trust only the best. Trust Brute, Inc. to clean up every mess. Every time.