Trust Only The Best. Trust Brute, Inc. 
Quick Response Time

Our quick response time allows us to come in and get to work right away, so we can get the job done around your schedule.
Lower Cost Alternative

Brute, Inc. is the lower overhead, low-cost alternative to keeping your facility clean, 24/7, 365.
Individual Estimates

Let us help you stay within your budget, as all our prices are quoted on an individual/custom basis.
Personalized Products & Services

We offer personalized and custom services, supplies, and products, so we can give better give you EXACTLY what you want.
Our focus is on transforming any Louisville, KY area construction site from a work-in-progress to a job well done. Brute, Inc. makes any new space feel professional, complete, and ready to move in. Through our wide variety of construction clean-up services, we tailor our skills to fit your needs. We can turn even the most unsightly construction sites into professionally completed offices and buildings.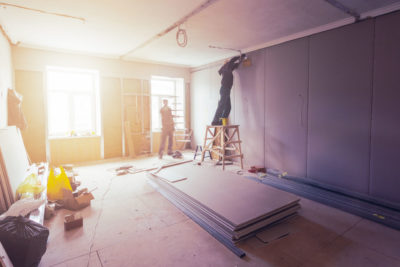 Post Construction Cleanup: Our Focus
A brand new building doesn't quite seem "brand new" until the sawdust, sheetrock remnants, carpet scraps, and construction crew mess is cleaned out. We will work with you to address your complete post-construction cleaning needs on any industrial or commercial cleaning. No job is too big or too small; we work from top to bottom to create a professional and complete space for new buyers, owners, or renters.
Professional Construction Cleaning
Our professional crews are highly qualified and experienced in handling even the toughest messes. We are organized and ready to go at a moment's notice. With our innovative line of products, solutions, and techniques, we provide maximum results without breaking the budget. Our crews are ready to complete any industrial or commercial cleaning or multi-location cleaning for large commercial sites.
What Is Commercial Construction Clean Up?
Our work is superior to any other in the industry through innovation, quality, and meticulous attention to detail. We provide commercial hauling services to get rid of leftover construction equipment, debris, and other unwanted items. Our crew will provide detailed cleaning of restrooms, sinks, tubs, toilets, countertops, cabinets, shelving, and thorough washing of the entire space including baseboards, door frames, window ledges, carefully remove factory stickers, and more. From polishing to power washing, we complete the job completely to make your space shine.
Working With Brute, Inc.
Leaving cleaning responsibilities to the construction crew often leaves owners frustrated and unimpressed. An extensive cleaning can take days to complete, which takes away time from other essential tasks. Hiring a professional service such as Brute, Inc. allows you to focus on other areas while we take care of the dirty work.
We provide not only state of the art construction cleaning services, but also peace of mind knowing that your space will look brilliant, professional, and ready to move in immediately following the final construction phase. Contact us today for more information.
Is It Time To Clean Up Your Act?
Trust only the best. Trust Brute, Inc. to clean up every mess. Every time.